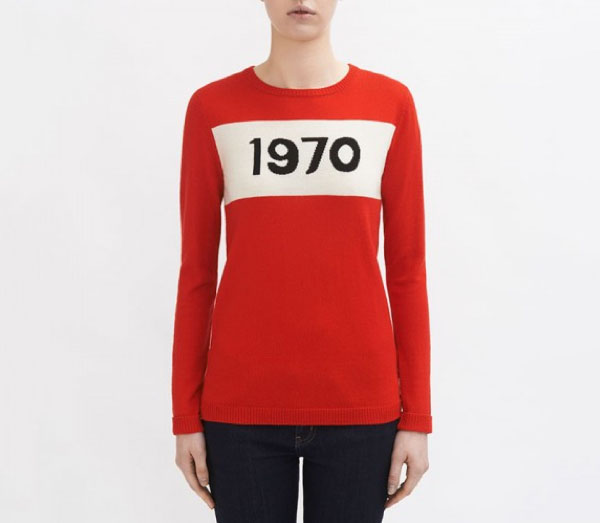 Bella Freud 1970 Jumper in Red (100% Pure Merino Wool jumper with 1970 hand laid intarsia)
Fashion designer Bella Freud was born in London and studied in Rome. She is renowned for her signature jumpers Je t'aime Jane, Ginsberg is God and 1970. Fans of Bella Freud include Alexa Chung, Laura Bailey, Kate Moss and Alison Mosshart.
Bella launched her eponymous label in 1990. Her first collection featured sexy knitted dresses in bookish colours, mini tailored suits and a small selection of shoes and bags. Bella went on to win Most Innovative Designer at the London Fashion Awards in 1991 and produced a Super 8 short film 'Day at the Races' as an alternative to a fashion show. Bella's second film 'More Clothes' directed by Kate Garner was shot on 35mm film and showcased the SS 1992 collection.
Seasonal catwalk shows followed, then in 1999 Bella began her fashion film collaboration with John Malkovich, co writing and producing three short films: Strap Hanging, Lady Behave, and Hideous Man. In 2001 Bella also collaborated with rock icon Anita Pallenberg on Memo, a limited edition magazine featuring the AW2000 collection, inspired by the film Performance.
From March 2000 to 2003 Bella consulted for British heritage brand Jaeger, rejuvenating their image and bringing British dressing to a younger audience.
Between 2004 and 2006 Bella was appointed head of womenswear for the relaunch of Biba. She also consulted for Miss Selfridge, designing three capsule collections.
2010 saw Bella collaborating with friend and muse Susie Bick on a capsule collection inspired by Susie's own ingenious style. In 2011 Bella co-wrote an experimental short film Submission with Bafta winning director Martina Amati. The performers wore knitted leotards and dresses featuring illustrations of shoes by Christian Louboutin.
In 2012 Bella designed two capsule collections for Barbour. Bella also developed her own scented candle range, which launched exclusively with Space NK.
Bella's love of film continued and in 2013 she art directed the short film Je T'Ecoute, produced by Laura Bailey starring Lara Stone, which screened at White Cube Bermondsey. Bella's directorial debut 'Girl Boils Egg' is a two minute film featuring Punk, commissioned by Nick Knight for SHOWstudio.com.
Bella has an ongoing Blank Canvas collaboration with Fred Perry and a range of perfume and scented candles inspired by her signature sweaters. The first Bella Freud stand alone store opened in 2015 and is located at 49 Chiltern Street, London.
In 2015 the Bella Freud menswear line develops alongside the internationally successful womenswear line. In 2016 Bella collaborates with Cutler & Gross on a limited edition collection of sunglasses.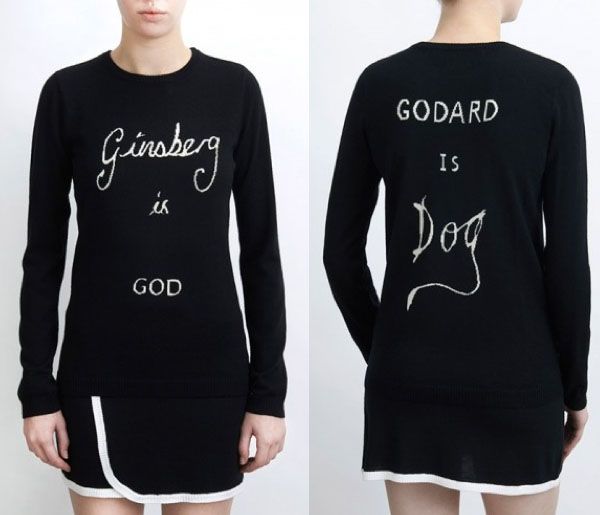 Bella Freud Ginsberg Is God Jumper in Black & Ivory
Bella made a short film with John Malkovich called Hideous Man about Beatnik girls waiting around at a club for their favourite poet to arrive for a reading. She wanted the leader of the group to wear a jumper showing her devotion to literature and art, a bit like a band t-shirt. She was throwing out names with her assistant, and Ginsberg is God tripped lightly off the tongue. 'But what about Godard is Dog, I mean God?' she said. Godard is Dog is what is written on the back of the jumper. A favourite with Kate Moss and beatniks alike. Pure Merino wool sweater with intarsia Ginsberg is God on the front and Godard is Dog on the back.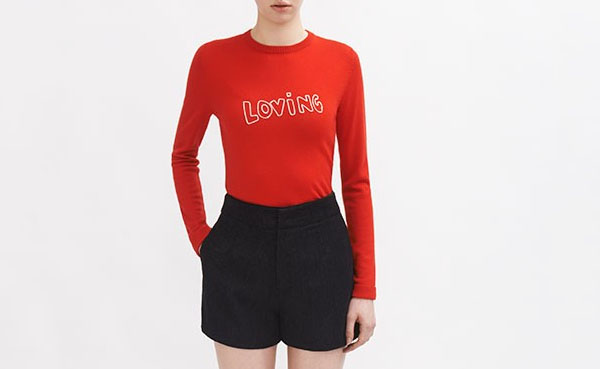 Bella Freud Loving Jumper in Red (100% Pure Merino Wool fine knit jumper with embroidered "Loving".)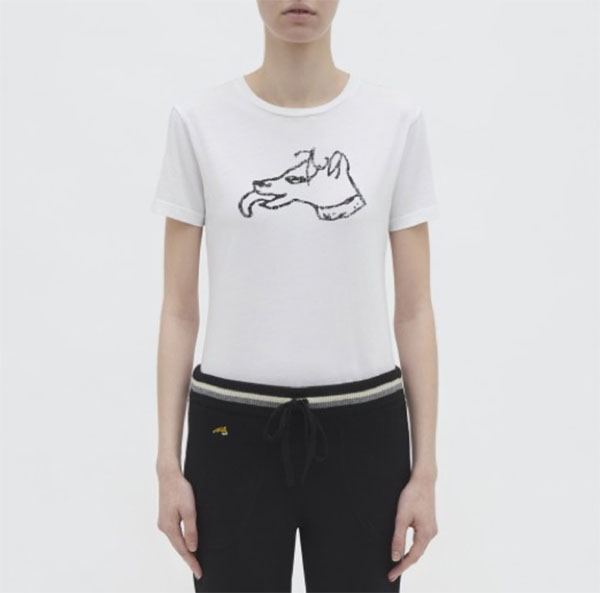 Bella Freud Dog T-Shirt in White (Cotton crew neck t-shirt with Dog screen print.)