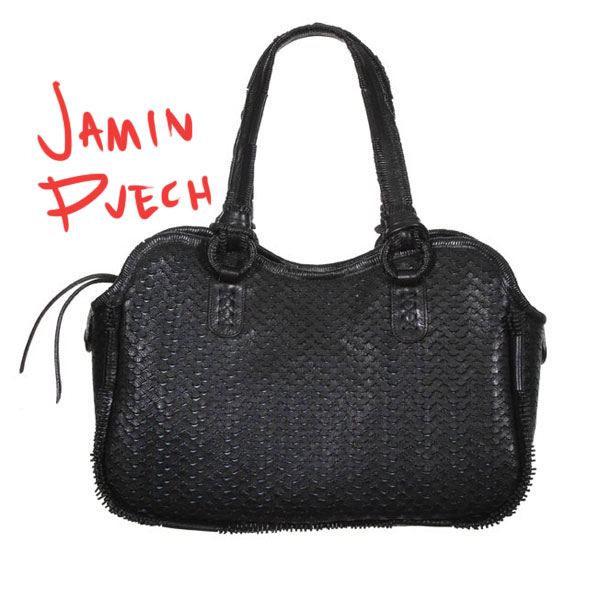 We have just received the Spring Summer 2014 collection of handbags from Jamin Puech Paris. This season they have really outdone themselves! Each bag is unique and we have a great assortment of styles: from day bags to evening bags; small sequined bags to large raffia beach bags; colourful bags, and bags in neutral colours. This is probably my favourite collection from Jamin Puech to date! Each handbag has been designed with a special attention to detail, and we hope to show them off to you in person!
CLARENCE is the black leather handbag (above) with small wave design cutouts. The beautifully textured leather handles are comfortable to carry in the hand, as well as at the shoulder (42 cm). There is a snap closure. The lining is made of printed cotton, and has 3 large interior compartments, one of which has a full zipper. The overall bag dimensions are: H 24 cm x L 34 cm x 10 cm.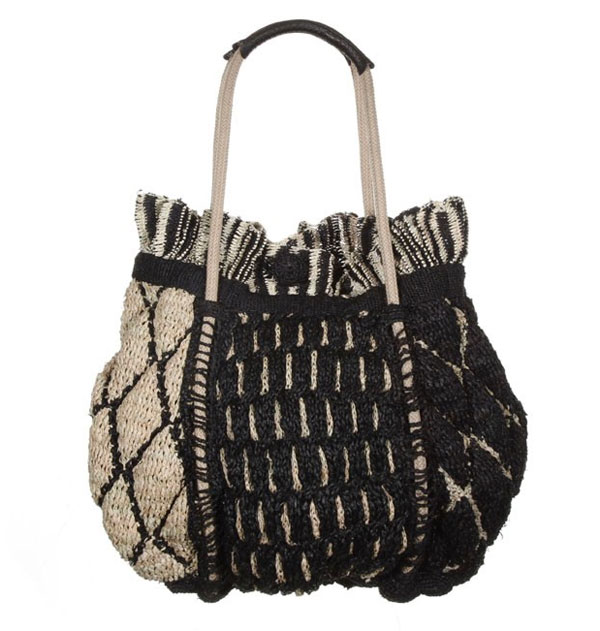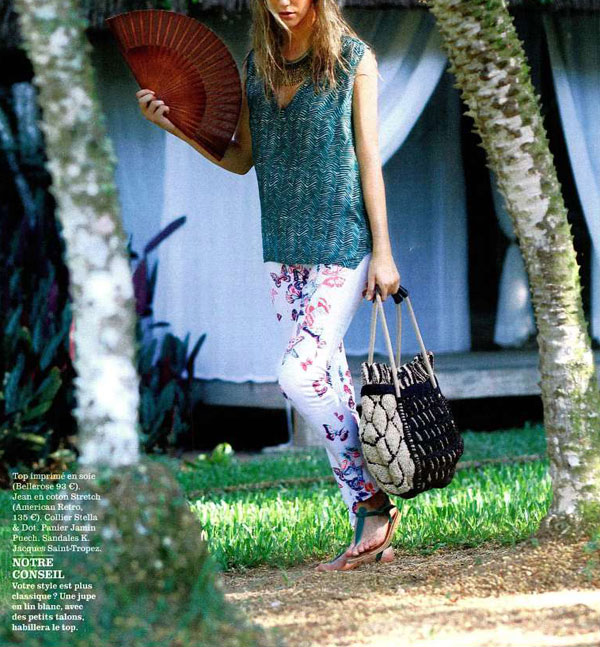 DOREEN is a large raffia bag in black and natural, with black leather handles, a button closure, striped cotton lining, and 1 large interior pocket with a button closure. It looks amazing worn over the shoulder (handles are 66 cm in length) and can also be carried by hand as in the image above. The overall bag dimensions are: H 42 cm x L 50 cm.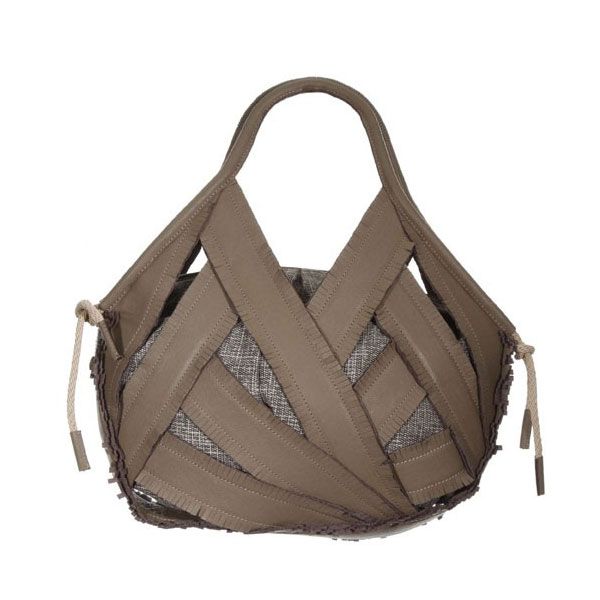 RITA is a handbag made of fringed calfskin leather assembled as a basket. Inside there is a zippered pouch in thick flecked cotton, fixed by 2 leather snaps, which is detachable and can be worn separately. There are 2 handles 60 cm in length. The overall bag dimensions: H 28 cm x L 34 cm x 4 cm.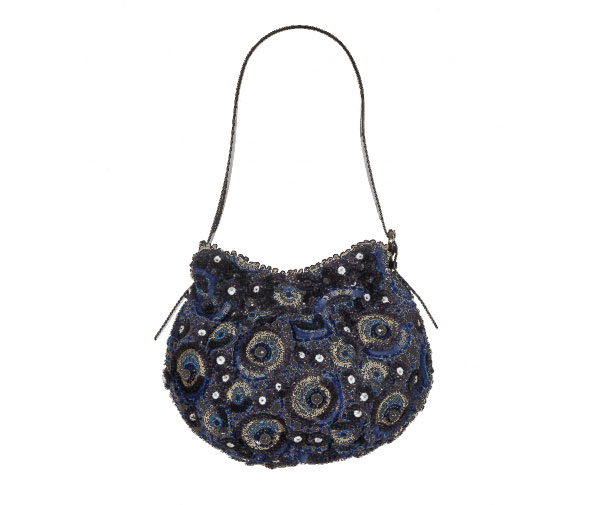 ANITA bag in an evening shoulder bag embroidered with metallic rings, appliqué and embellished with beads and sequins. With a flap and bead closure and a thin calfskin leather adjustable handle measuring 48 cm. Overall bag dimensions: H 20 cm x L 30 cm.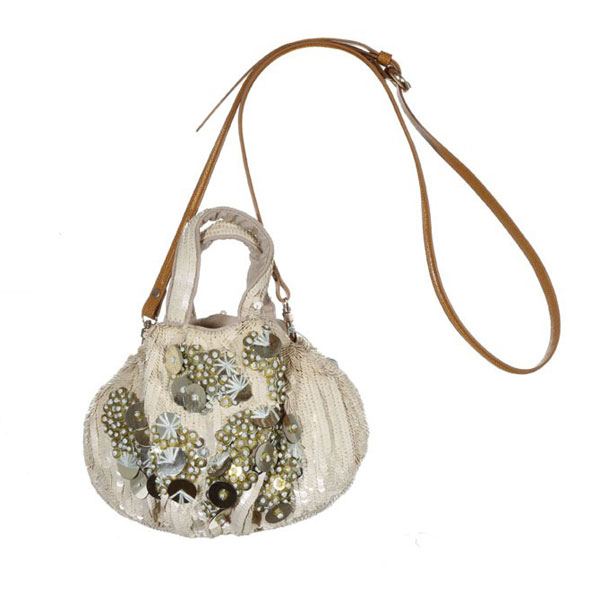 MARCEL is an ivory sequined evening bag with an ornate underwater design in silver paillettes, seed beads and green accents. It has a silk double flap closure with magnet. Can be worn as a bracelet bag, carried by hand, or with a removable and adjustable leather strap, which is long enough to wear over the shoulder or cross-body (up to 114 cm). The overall bag dimensions are: H 18 cm x L 24 cm.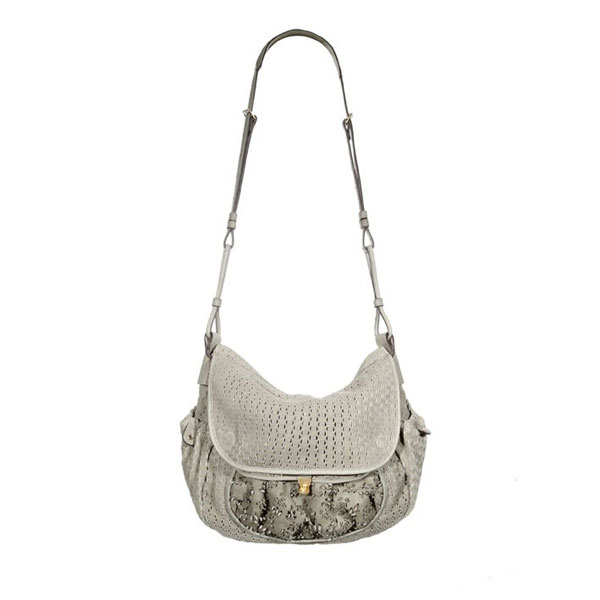 BECKY bag is a khaki suede shoulder bag with beautiful geometric repeat and leaf motif laser cutouts. There is a magnetic flap closure, and an external pocket with a gold buckle closure. It has a printed cotton lining with 1 internal zip pocket, and the should strap is long enough to wear over the shoulder, or as a cross body bag (92 cm). Overall bag dimensions: H 34 cm x L 30 cm x 8cm.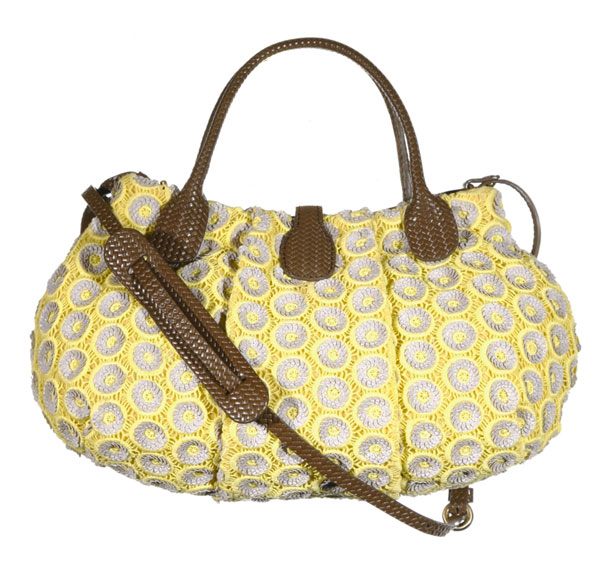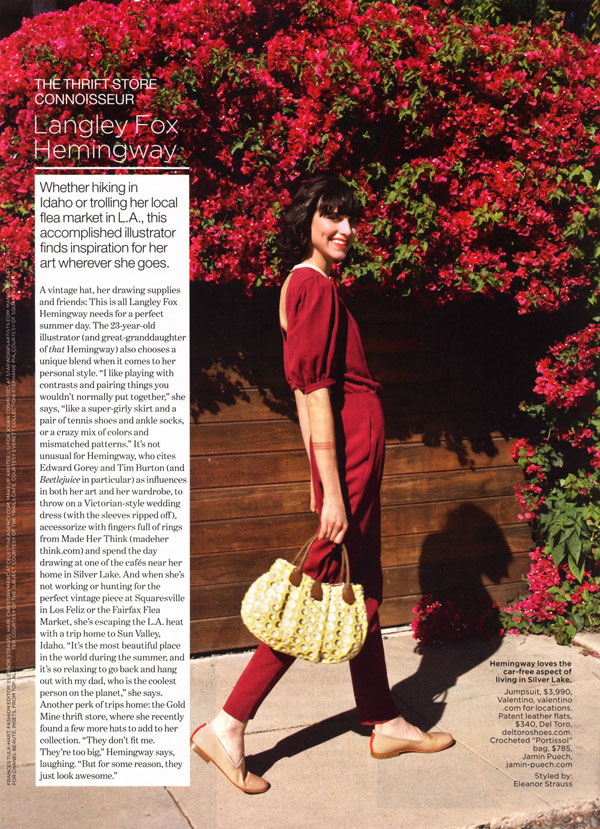 PORTISSOL is cotton bag fully covered with a guipure lace embroidered with sequins making a small daisy flower design. A leather magnetic strap closes the bag, as well as a full zipper closure. There are 2 leather handles (32 cm) to be worn when carrying the bag by hand, and a long strap with a shoulder tab to be worn over the shoulder or across the body (105cm). The interior is lined in a printed cotton, and has one large zippered-up pocket. Overall bag dimensions: H 20 cm x L 33cm x W 8 cm.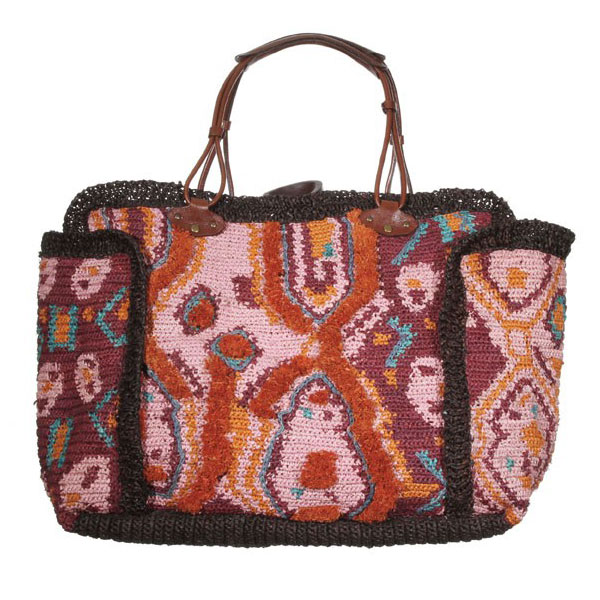 GORDON is a large multicoloured tote bag with raffia jacquard and rug stitch pattern. It can be worn over the shoulder or carried by hand, with 2 double leather handles measuring 48 cm. The tote is lined in a striped cotton, with two patch pockets and a wooden button closure. The overall dimensions are: H 34 cm x L 45 cm x 17 cm.